From Guitar Player to Guitar Builder

FROM GUITAR PLAYER TO GUITAR BUILDER
Around the age of fourteen or fifteen I was playing a lot of guitar, however, tinkering on guitars quickly became a new fascination. Buying and working on guitars was going to become my new playground.
It was the early '70s; I was living in the suburbs just north of Chicago. Nixon was President, Jim Morrison and Duane Allman had died, Bridge Over Troubled Waters and American Pie were big on the radio, the Vietnam War was still raging on and The Beatles had already broken up... Johnny Winter was my idol and anything I saw Johnny playing, I needed to get my hands on; SG's, Firebirds, Flying V's, Les Paul's and even an old Melody Maker. By the age of 16, I had acquired a relatively good collection including a 1954 Les Paul Custom.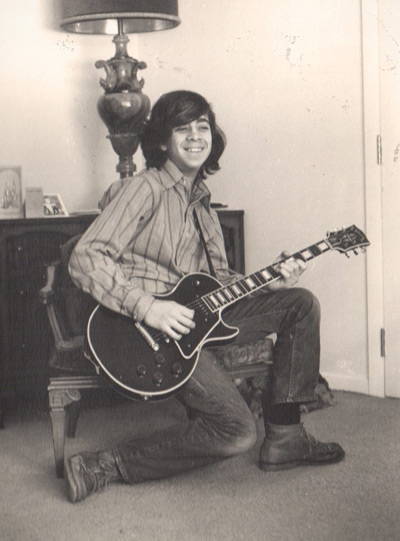 Fixing and Flipping Guitars
In my earliest years when my parents bought me a record player, I was the kid who was equally excited to take it apart as to put on a record. I was just curious how everything worked. Naturally, in my early guitar playing years I never hesitated to adjust a truss rod or take the backplate off and start messing with the wiring. Soon I was buying guitars needing repair on the cheap and fixing them up on the side.
A friend had a line on some guy with a Gibson SG; the neck completely broken off at the heel…said it could be bought for about $80. Thinking it was an okay deal, I asked my friend to set up a meeting. The guy showed up to my buddy's house with the broken SG and a bandana tied on his head. Thinking the headwear was kind of unusual, I asked him "what's with the cloth on your head." He told me he was walking down a street in New York and a lady dropped a flowerpot off her window ledge and it landed on his head. I couldn't hold back the laughter...  
I bought the SG, broken neck and all. After gluing the neck back on and touching it up, it played just fine. I flipped the guitar and soon realized I can make money this way. After that I tried my hand at painting and refinishing guitars. Using automotive finishes, I began spraying in the garage and eventually set up a spray booth in the attic. After many trials and tribulations, I had my own finishing methods down. Though I owned a spray gun, I was able to achieve a relatively professional finish by spraying lacquer out of rattle cans and buffing with a pad on a hand drill.
My parent's basement (already outfitted with all the woodworking machinery left by my father) became my headquarters. Equipped with a table saw, radial arm saw, drill press, belt sander and all the hand and power tools I needed, working on guitars became a bigger focus in my life.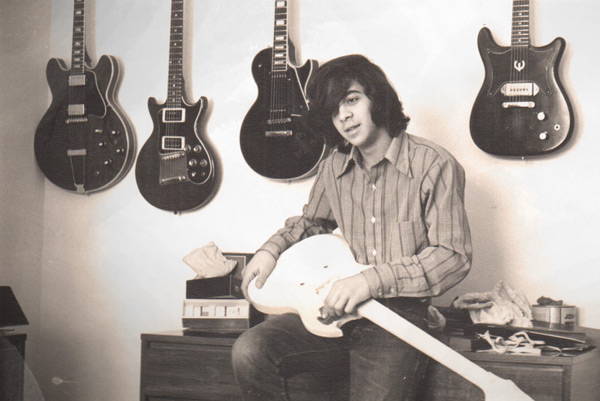 A young Dean Zelinsky with some of his early guitar collection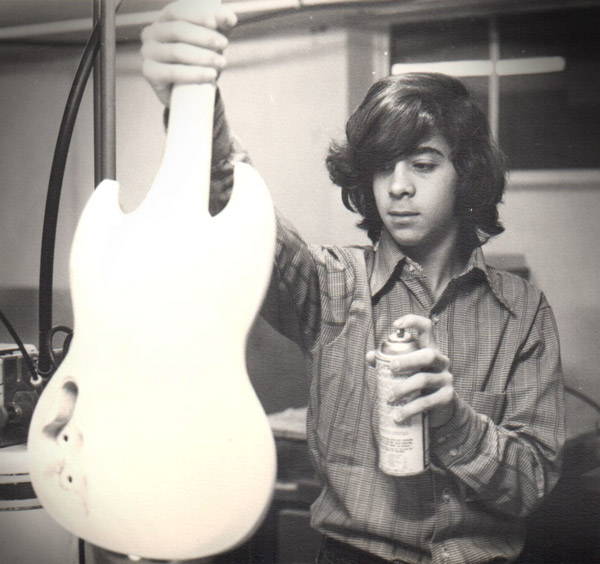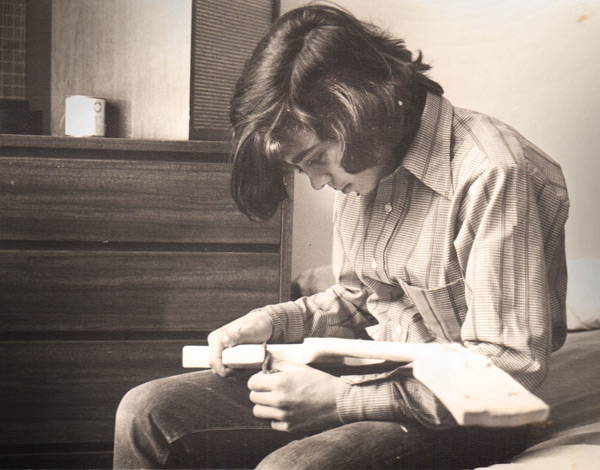 Trials and Tribulations 
When I was about 16, while hanging at Gary Gand Music, I casually said to Gary, "why don't you let me do your repairs?"
Gary asked, "you know how to repair guitars?" He then ventured down into the basement of the store and came up with an SG case. Inside was one of those 1960 white SG-style Les Paul's. However, this one was in many pieces. Apparently, someone had El Kabong-ed it into a basement foundation wall. The whole control cavity was shattered…virtually gone. The neck was broken off and the headstock was in a few pieces. I'm sure Gand thought, "what do I have to lose?"
I took the guitar home, got some mahogany and grafted it to where the control cavity used to be, put the head and neck back on and refinished it in the original gloss white lacquer. After I got the hardware mounted and made it play real nice, I brought it back to Gand. Needless to say, I was doing all of his repair work from that point forward. At the age of 16, I had my first client. No business would be complete without an employee. I hired my close friend Ken to do most of the sanding while I concentrated on the more sophisticated details.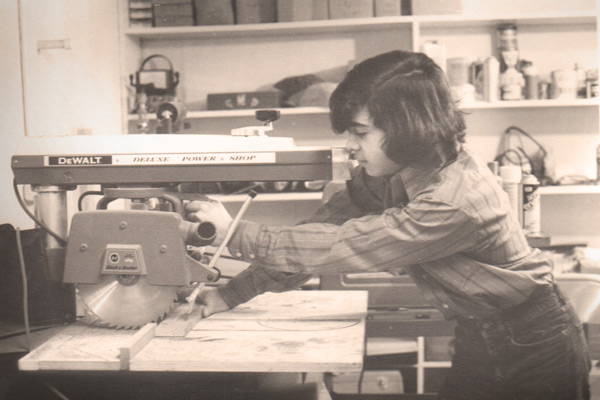 Jimmy Page and Double Necks
Jimmy Page was the guitar hero of that time and he was making double-necks popular. They were a bit scarce, especially if you wanted combinations like a six string and a bass. One day Gand handed me a brand new walnut SG guitar and brand new walnut SG bass (I think it was called EB1) and asked if I could make a double-neck. Being one to never turn down a challenge, I took the two guitars home. After some planning, I sliced off the upper bout of the guitar and the lower bout of the bass with my radial arm saw. I glued the two guitars together and then refinished the whole new double guitar. The guitars now having to share a single control cavity, I wired it up with a switch to isolate the bass from the six string. Of course there was no such thing as a case for this instrument I created, so I built that too. I constructed the box, covered it with tolex, cut out the foam, lined it with pink crushed velvet and put on hinges, latches and a handle. I made a few more after that one…wonder if they are even still around today.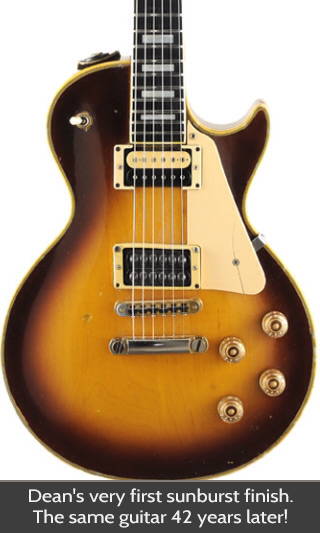 Sunbursts 
One day a local guitarist, Westy Foss, brought a 1969 Black Les Paul Custom into Gary Gand's looking to get it refinished. The Les Paul took a crash into a drum set and Westy wanted a Jimmy Page/Duane Allman-esque sunburst. Gand called me up and passed along the work. I said of course I could spray a nice Tobacco Sunburst for him, albeit not mentioning that I had never done a sunburst before. This was about a quarter century before the Internet was created, so information on how to refinish a sunburst guitar was hard to come by... I just had to figure it out.
Getting myself into jams like that turned out to be fine training for the career I was about to embark on. However, as you will read in future writings, nothing could prepare me for the full-scale manufacturing of guitars in Chicago at the age of 18.
So I had my little enterprise going out of the house, getting work from Gand and more through buying and selling on my own. But school was getting in the way of my career…I needed to do something soon.
- DZ
| | |
| --- | --- |
| | |
| BLOG #1: MY EARLIEST YEARS | BLOG #3: I CAN'T STAND SCHOOL |
---
As my blog continues I will be telling stories about my early years, the early days of Dean Guitars, the more recent Dean Guitar days…my relationships over the years with artists like Billy Gibbons, Michael Schenker, Dimebag Darrell, Kerry Livgren, Elliott Easton, Zakk Wylde, Dave Mustaine, Johnny Winter...some groupie stories and many more. Stories of my rocking and rolling career as a guitar builder during the formative years of Rock Music.
If you have stories you would like to hear, please feel free to write me at info@deanzelinsky.com