ZZ Top Spinning Fur Guitars

 - DID YOU KNOW -
Dean Zelinsky built the ZZ Top Spinning Fur Guitars
that appeared in the band's 1983 award-winning Legs video?
That video was so instrumental in the band's resurgence...
Billy Gibbons and I were introduced in the late 70's thru a mutual friend. Billy used to call me on a regular basis just to talk shop. One day we were having a conversation and I said, "How about I build you a guitar?" Billy was receptive and we worked out the details for a custom Wine Red ML Guitar. Yes – in the early 80's even Billy Gibbons had a Dean ML!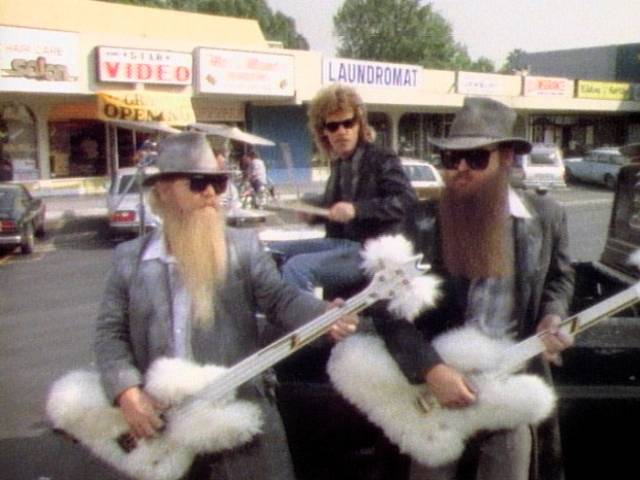 When the guitar arrived he sent me a very nice letter thanking me for the guitar and saying something like "sure is a pretty thing" and "can't wait to give it a few whacks!"
One day I am hanging in Los Angeles and received a call from Billy...and in his southern drawl he said, "I'm in the studio using the Dean ML Guitar and it's sounding incredible!" He asked me to re-route my flight home and come hear the record. I flew to Houston and listened to the entire Eliminator record in Billy's Black SL Mercedes. The record was still in the rough and not a final mix yet. I remember hearing the song Legs before the keyboard sequencer was added and something about that raw mix made the guitar tones sound even better. Gibbons told me he did the whole Eliminator record using his Dean ML guitar.
---
" I'm sending you some sheepskins I purchased while in Scotland, I want you to put them on some guitars..."

- Billy Gibbons
---
Most people don't know this, but while his persona at the time was more "Beer Drinking and Hell Raising," Billy was really a soft-spoken southern hospitable guy. He wore New York suits, alligator shoes and carried a brief case. When he dropped me off at the airport, he insisted on carrying my luggage. Those were the days when you could park up front and go into the terminal!
Soon after the record was released, Billy tells me they were gearing up for a tour. I suggested we build some custom guitars for the tour and once again, Billy was receptive. When the tour started, ZZ Top was using my guitars exclusively.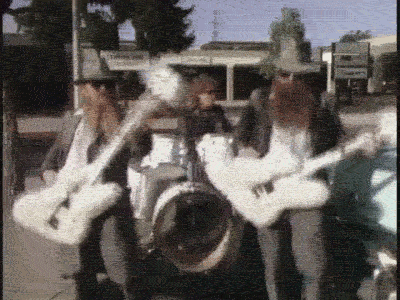 So Where's the Fur...
One night, I received a 3am phone call... it's Gibbons. He was on tour in the UK and had the guys from Def Leppard with him. He wanted to hook them up with some Dean Guitars. A little disoriented from the late night call, I spent about a half an hour on the phone working out the details for Phil Collen's Blueburst Z and Steve Clark's Maroon Cadillac. Then at the very end of the conversation Billy drops the line, "I'm sending you some sheepskins I purchased while in Scotland, I want you to put them on some guitars…"
Weeks later, the sheepskins showed up and I got to work. I made a matching pair of Dean Z guitar and bass, painted them white including the fingerboards, painted the Eliminator Logo down the necks and applied the sheepskins. I cleared a path down the center with an electric horse sheers to accept the pickups, tailpiece and strings. I remember we were still gluing the fur on the tuning keys when the FedEx driver showed up to pick up the guitars. He waited while we boxed them up…they had to make it to the video shoot the very next day.
…and the rest is a piece of Rock n' Roll History!
- DZ
---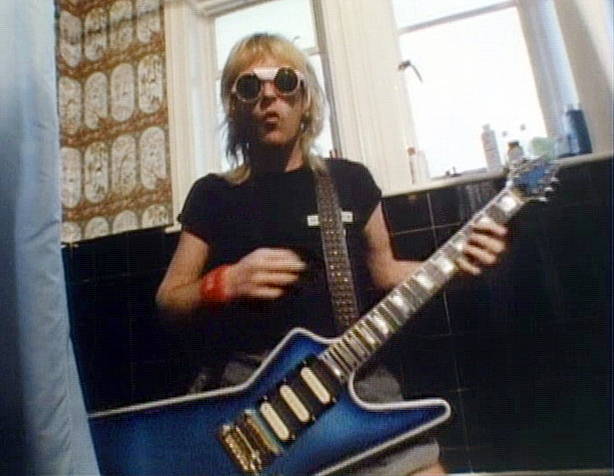 Phil Collen of Def Leppard with his Dean Z in the "Me and My Wine" music video.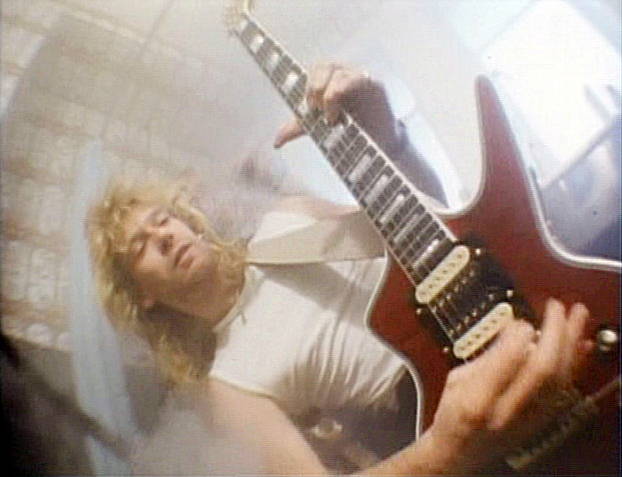 Steve Clark of Def Leppard playing his Dean Cadillac in the "Me and My Wine" music video. 
As my blog continues I will be telling stories about my early years, the early days of Dean Guitars, the more recent Dean Guitar days…my relationships over the years with artists like Billy Gibbons, Michael Schenker, Dimebag Darrell, Kerry Livgren, Elliott Easton, Zakk Wylde, Dave Mustaine, Johnny Winter...some groupie stories and many more. Stories of my rocking and rolling career as a guitar builder during the formative years of Rock Music.
If you have stories you would like to hear, please feel free to write me at info@deanzelinsky.com