Zakk Wylde Changed My Flat Tire

 - DID YOU KNOW -
Zakk Wylde Changed My Flat Tire?
I was flying out to California to meet with Zakk, it was August 2008. It was about our third meeting…attempting to get him to leave Gibson and come over to my camp. I had made a few guitars for Zakk over the years, including a custom Dimebag Razorback which he played often, especially during his Tribute to Dime in his live shows. Darrell had asked me to make a Razorback for Zakk, which I honored after his death.
These meetings with Zakk were hardly pressed by me...I never pushed an artist to play my guitars, as I wanted them to play my guitars solely because they wanted to. But Zakk seemed to have a volatile relationship with Gibson and would call me from time to time when he thought he had enough. This turned out to be my last attempt to close a deal with Zakk.
I arrived at the airport (LAX) and went to the car rental place where I reserved a nice sports car. When I got there, all they had was a Jeep Wrangler! I argued with the dude at the desk, but soon realized I was getting the Jeep or nothing...and I had a meeting to get to! So I took the Jeep and navigated my way to Zakk's house.
I hadn't been there before so had no idea where I was going. Turns out his place is a little off the NAV, way down a dirt road, and high up on a hill. As it was, the Jeep was the right tool for the job.
As soon as I turned onto the long dirt road that led up to Zakk's house, I felt a rather big bump…then the sound of air rushing out of the tire that oscillated every time the wheel went around. Whatever I hit, the air was coming out fast! I hit the gas and raced up the hill while I still had air in the tire. The tire was completely flat by the time I parked in Zakk's drive, but I had made it.
---
" Last time we met, Zakk dug me out of a snowstorm...now time to change my tire!"
---
As you can imagine, meeting with Zakk was always an unique experience. Zakk answered the door and first thing I said was, "Zakk, we're going to be changing a tire!"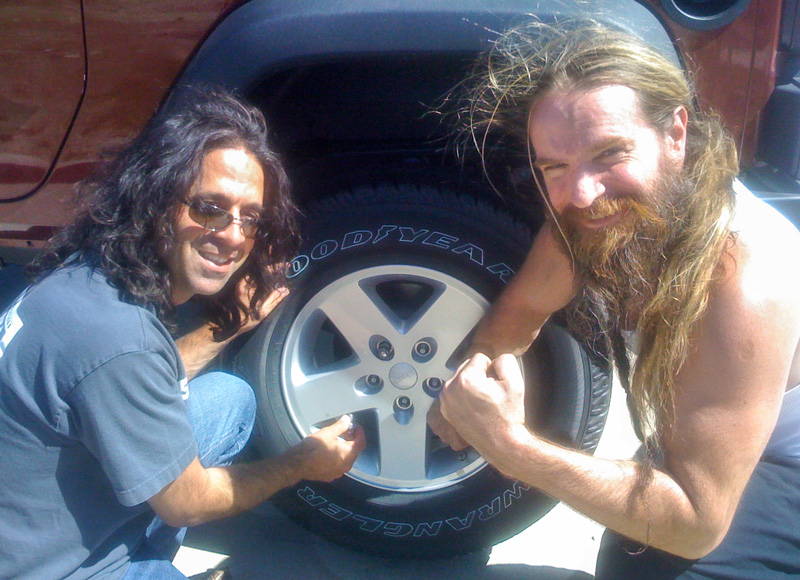 This was not all that unusual. Our previous meeting was in Chicago at one of Zakk's favorite places, Morton's Steak House, and while we were dining a blizzard blew in. After about a three hour dinner with Zakk, his wife Barbaranne, his manager Bob Ringe, and my wife Suzi, we stepped outside to about 10 inches of snow on the ground. Zakk had a car and a driver, and drove me to my car. Zakk didn't just drop me off...he was always the kind of guy who would go out of his way to help. He got out of his car, grabbed a snow scraper and brushed all the snow off my car, handed me his Zakk Wylde beanie and said "you need this more than me" and then took off. So last time we met, he dug me out of a snowstorm...now time to change my tire!
We had a nice meeting and made some progress on the "deal" and then it was time to leave. Zakk had a big garage which was his gym, outfitted with a bunch of old-schoolworkout equipment…also lots of tools. Zakk insisted on changing the tire himself. Turns out I hit a huge tent spike on the way up, which Zakk pulled out of the flattened tire.
Lawyers and managers always seem to get in the way…Zakk and I never ended up closing the deal…but I did get this great photo of Zakk changing my tire!
- DZ
---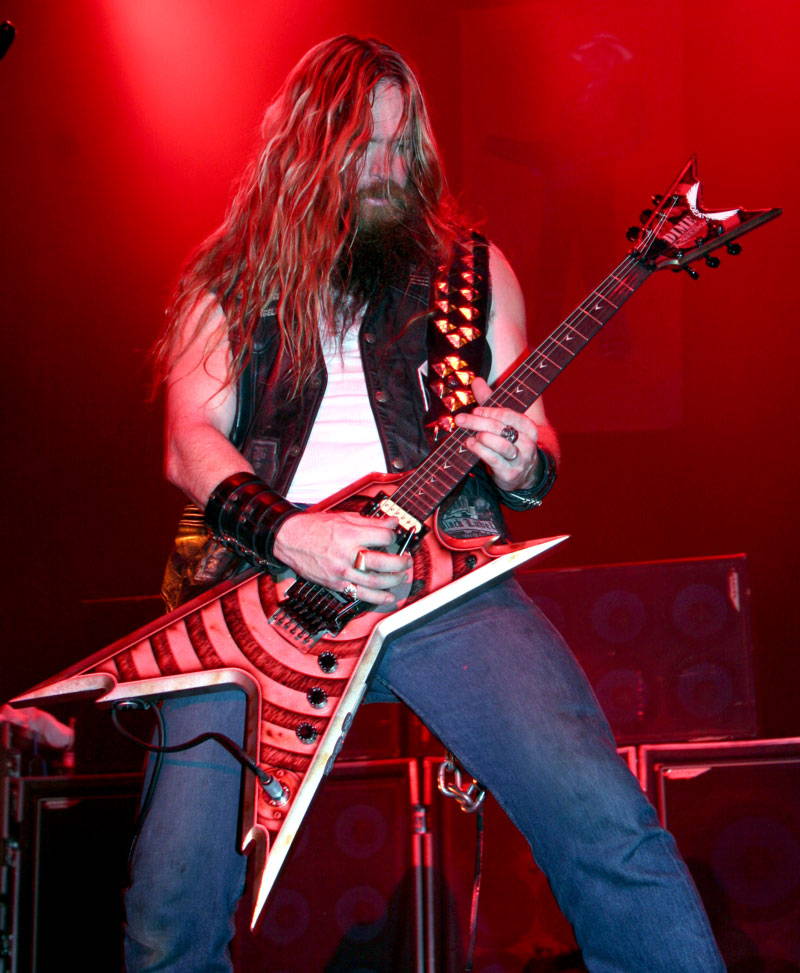 Zakk playing his custom Dimebag Razorback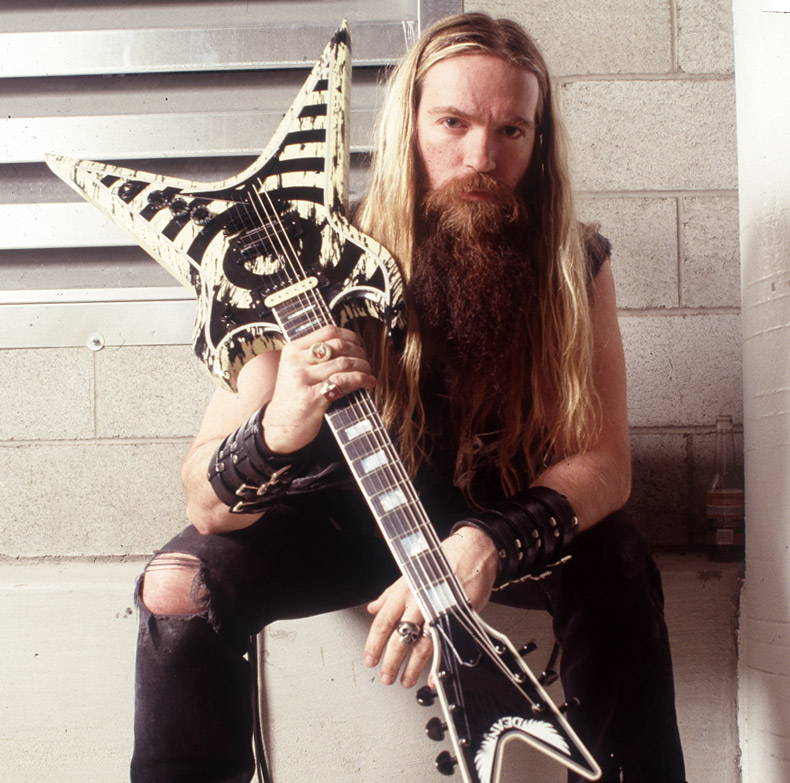 Zakk with his Dean Splittail. 
As my blog continues I will be telling stories about my early years, the early days of Dean Guitars, the more recent Dean Guitar days…my relationships over the years with artists like Billy Gibbons, Michael Schenker, Dimebag Darrell, Kerry Livgren, Elliott Easton, Zakk Wylde, Dave Mustaine, Johnny Winter...some groupie stories and many more. Stories of my rocking and rolling career as a guitar builder during the formative years of Rock Music.
If you have stories you would like to hear, please feel free to write me at info@deanzelinsky.com